Le Presbytère, Chambre d'Hôte & Table d'Hôte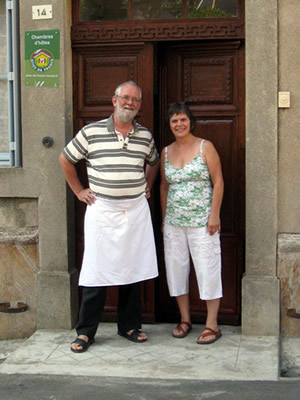 Martin and Sile Dwyer welcome you to their home in Thézan Lès Béziers.
Le Presbytère Chambre d'Hôte is the one-time priest's house in the village. Set near the church, whose origins go back to the ninth century, the Presbytère itself is a building which has seen history. The skeleton of the house goes back to the twelfth century at least, as witnessed by the two off-set doorways we discovered in the renovations.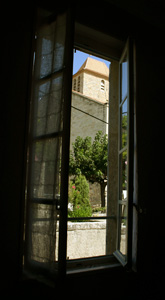 We also found that the original town wall went right through the centre of the building. The front door itself is so strongly reinforced inside that it was surely at one time intended to repel assault!
The house was completely refurbished in 1925 – the date is painted on the façade – and it is to that renovation that we owe our lovely encaustic tiles.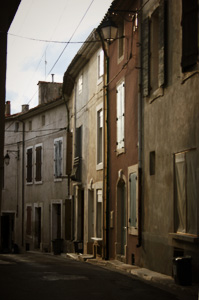 As the village of Thézan Lès Béziers is a classic Languedoc Circulade – built on a small hill, traditionally with the church at the apex – we enjoy marvellous views from our terrace right down the valley of the Orb and even (when the weather is clear) to the Pyrennees.
Unusually for a house in the centre of the village, we have a small garden, a prerequisite, we are told, for the Curé to walk in as he said his office.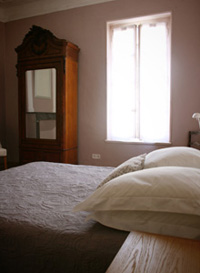 We have had the house restored under the guidance of master designer (and old friend) Clive Nunn from Thomastown in Kilkenny. Clive designed and made the kitchen using Oak and Black Kilkenny Limestone which have fitted very comfortably into the building.
As Clive was at one time an antique dealer, Martin and he have spent many months most enjoyably searching local Brocantes and Antique Fairs to furnish the four guest bedrooms of the Chambre d'Hôte with Armoires, chairs and tables which are (as the French say) à l'époque with the age of the house.
The Chambre d'Hôte is wired for the internet and there is Wi-Fi reception in all the rooms.
See "Le Presbytère" featured on RTE's "Nationwide" in March 2013 »