Le Presbytère, Chambre d'Hôte & Table d'Hôte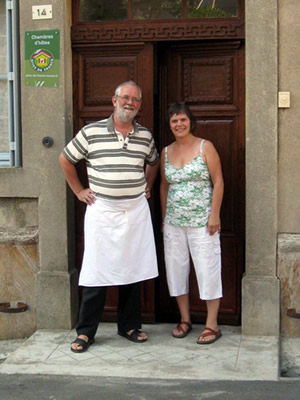 Martin and Sile Dwyer welcome you to their home in Thézan Lès Béziers.
Thézan is a traditional Languedoc Village Circulade set on a small hill in the middle of vines just a few kilometres north of the wine city of Béziers.
Le Presbytère Chambres d'Hôtes is next to the church at the top the hill on which the old circulade village was built, so we enjoy marvellous views from our terrace and from the south facing bedrooms; La Chambre Rouge and La Petite Chambre, right down the valley of the Orb and even (when the weather is clear) to the Pyrenees.
The two spacious north facing bedrooms, La Chambre Famille and La Chambre Cheminee frame views of the 12th Century church.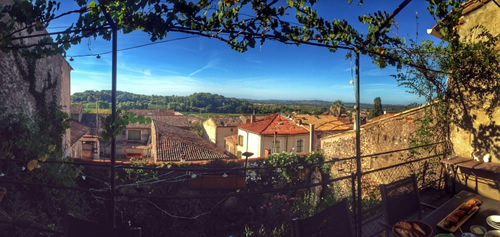 Unusually for a house in the centre of the village, we have a small garden; Le Jardin du Curé, where the priest used to walk as he said his office. Leading on to the garden under the shelter of the terrace is the Cuisine d'Ete, a summer kitchen, which is equipped and furnished for the exclusive use of the guests.
We have had the house carefully restored under the guidance of master designer the late Clive Nunn from Thomastown in Kilkenny. Clive designed and made the kitchen using Oak and Black Kilkenny Limestone and furnished the four guest bedrooms, all on the first floor, with antique french Armoires, chairs and tables which are à l'époque with the age of the house.
Le Presbytère is wired for the internet and there is Wi-Fi reception in all the bedrooms.
See "Le Presbytère" featured on RTE's "Nationwide" in March 2013 »