Food and Drink
Breakfast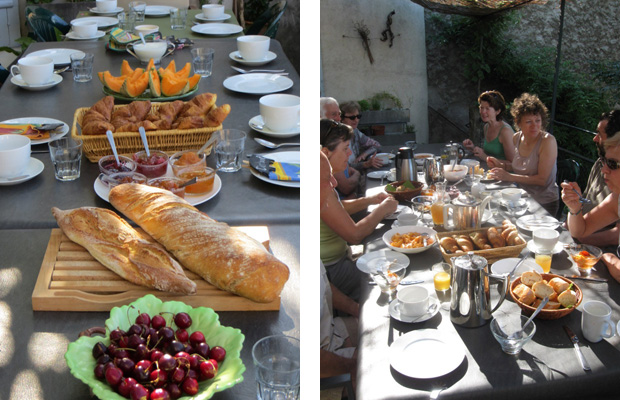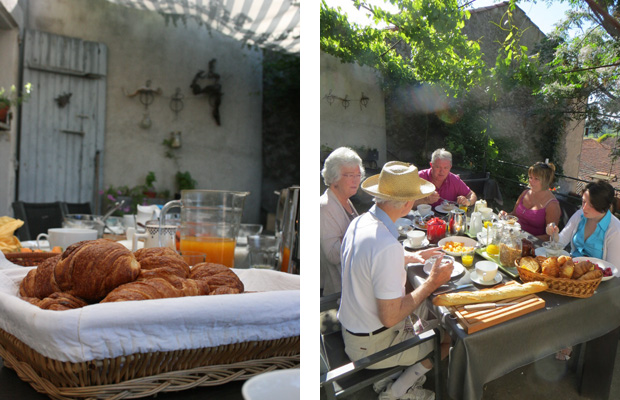 The Chambre d'Hôte is run in the French style with breakfasts included in the price of the rooms.
For breakfast you will find fresh Mediterranean fruits; perhaps sun ripened Apricots, Peaches, Cherries, or Melons. We make our own crunchy Granola of honey toasted oat flakes, almonds, sunflower and pumpkin seeds. This is delicious with the summer fruits or with our winter fruit salad of prunes, dates or apricots or simply with a dollop of fromage frais.
We make all our own jams and jellies, these could be apricot, plum, black grape jelly or bitter orange marmalade. With these we serve crisp local  baguette and croissants and some of our own breads, perhaps a pompe a l'huile, which is a fruity olive oil brioche, or a sourdough loaf with local chestnut flour or a brown loaf made with Irish wholemeal flour (when we can persuade our Irish visitors to bring some over with them).
---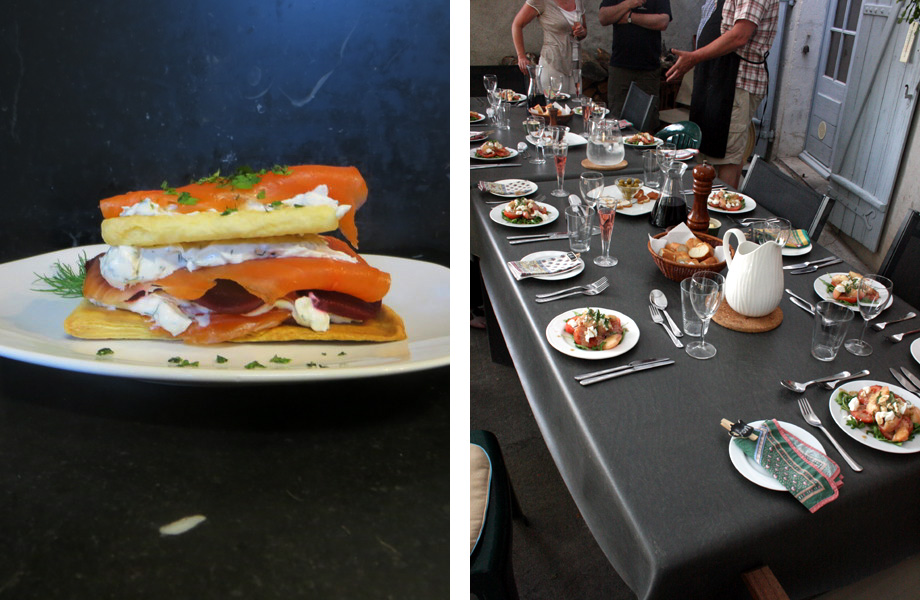 Dinner
Dinner is special in Le Presbytére.
Martin was for many years the chef in his own restaurant in Waterford in Ireland. Since he did some of his training in France and was for some years the Commissioner General of the Irish branch of Euro Toques – the French association of Chefs de Cuisine – he has always been an unashamed champion of French food.
Presbytére Dinner costs €35 a head and includes an aperitif, usually a Kir made with the sparkling wines of Limoux, an amuse-bouche, a starter, a main course of local fish or meat, a serving of French cheeses before a dessert, coffee and a home made digestif (we make some delicious Vin de Noix with walnuts from the wood outside the village) and also includes the accompanying local wines, the reds usually from St. Chinian or Faugeres, the white often a Picpoul de Pinet.
---
The Summer Kitchen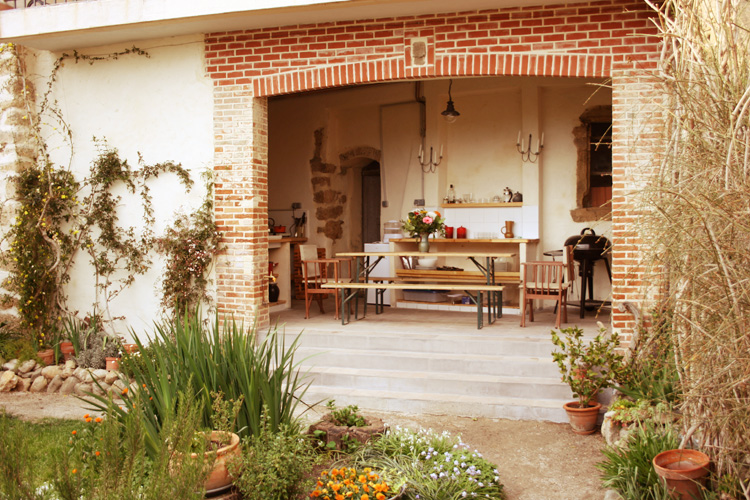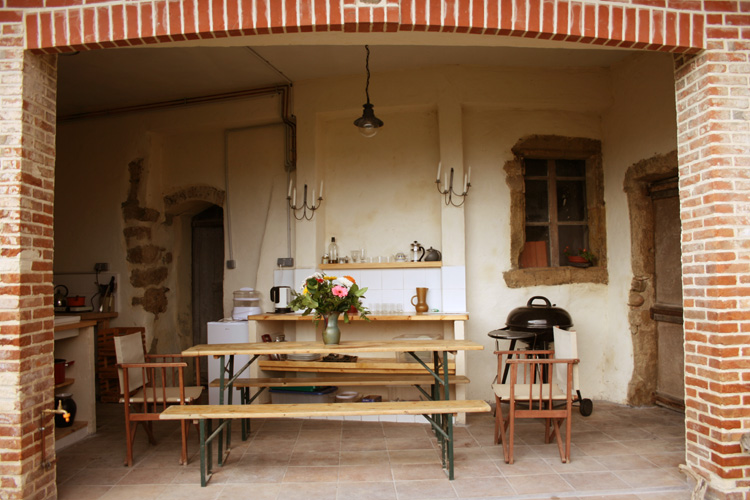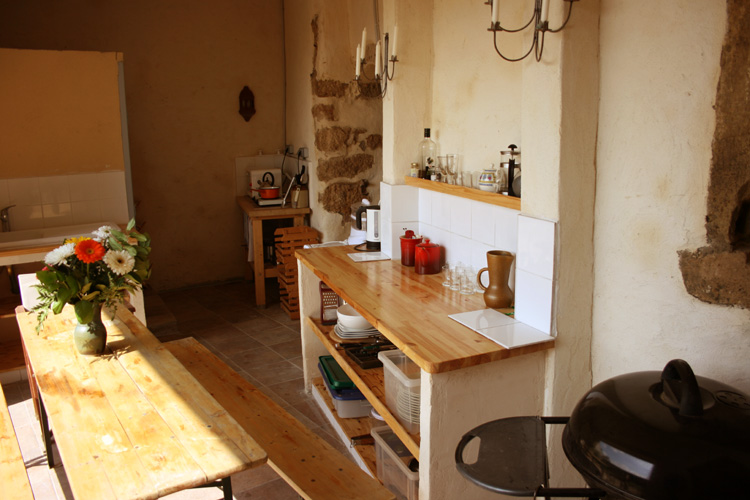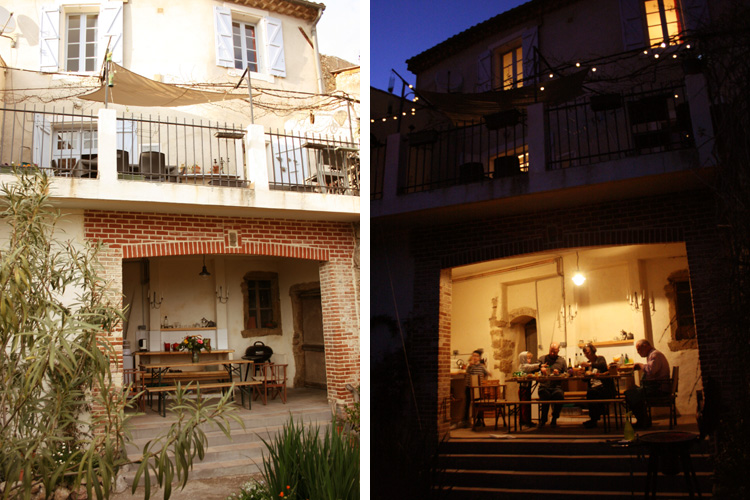 This year Martin and Sile have installed a Summer Kitchen in the garden, under the shelter of the terrace, for the use of the guests. This is provided with all the equipment you may need to produce a summer supper. It has a small cooker and hob, a fridge and a charcoal barbecue as well as pots and pans. It is an extra option for our guests to cater for themselves in the evenings- especially useful on Martin's nights off.
---
Languedoc Food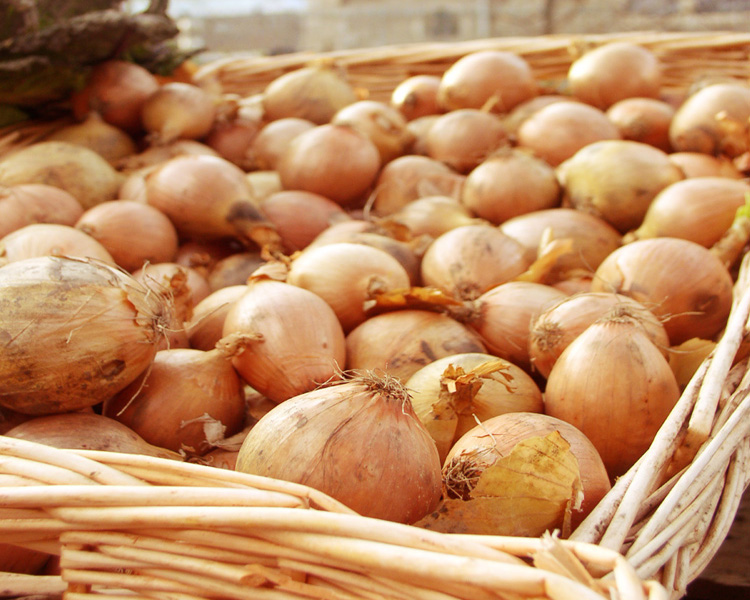 Here in the Languedoc there are great supplies of fresh fruit and vegetables.
Delicious fish available from the nearby Mediterranean with particularly good shellfish from the Bassin de Thau where their unique savour is thought to come from the high salinity of this inland sea.
The Vallée de l'Orb, where we live, is just south of the Massif Central and there you find some of the best Lamb in France. Duck and Geese are raised in the Haute Languedoc and there is a tradition here of making Confit with their legs, an important ingredient in the local speciality; Cassoulet.
The village of Thézan has a superb butcher, who still slaughters and hangs his own meat and makes a variety of ready prepared meals. Within three kilometres is a producers market; "La Ferme Biterroise", open all week with delicious fresh local produce. The famous enclosed markets in Narbonne and Beziers are a showcase for the food of the Mediterranean and are open every morning. The lively weekly open air markets in Pezenas (Saturday) and St. Chinian (Sunday) should not be missed.
There is also a large, well stocked, Super U supermarket at the edge of the village for all your other needs.