Food and Drink
Breakfast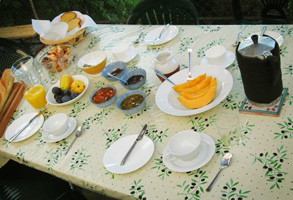 The Chambre d'Hôte is run in the French style with breakfasts included in the price of the rooms.
Breakfast will be fresh fruits in the summer - perhaps with compotes of sun ripened Apricots, Peaches or Nectarines, served with a vanilla flavoured fromage frais. In the winter you may be served compotes of dried fruits; delicious prunes from Agen, or local dried apricots or little dried figs from Greece.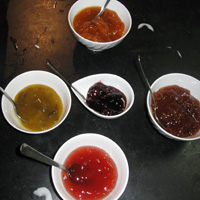 These will be accompanied by croissants and fresh breads made by the village baker or by Martin's own buttery Brioche, all served with a large selection of jams and jellies which Martin makes - sometimes using the Quinces and Pomegranates which grow wild in the hedgerows around Thézan.
---
Dinner
Dinner is special in Le Presbytére.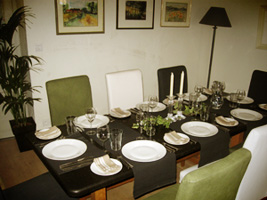 Martin was for many years the chef in his own restaurant in Waterford in Ireland. Since he did some of his training in France and was for some years the Commissioner General of the Irish branch of Euro Toques - the French association of Chefs de Cuisine - he has always been an unashamed champion of French food. He admits to a complete obsession with food and a total love of cooking it.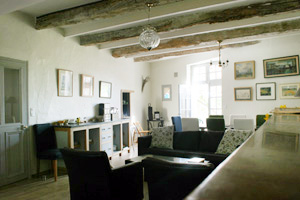 Here in the Languedoc there are great supplies of fresh fruit and vegetables, delicious fish available from the nearby Mediterranean with particularly good shellfish from the Bassin de Thau where their unique savour is thought to come from the high salinity of this inland sea. The Vallee de l'Orb is just south of the Massive Central where some of the best Lamb in France grazes. The village of Thézan has a superb butcher, who still slaughters and hangs his own meat and its own baker who also make great patisserie and it's own market outside the Mairie on Tuesdays and Thursdays.
Dinner includes an aperitif, a starter, a main course of local fish or meat, a serving of French cheeses before a dessert, coffee and a digestif.
The cost of dinner is €30 a head which also includes a bottle of local Red or White wine between each couple.