Courses for 2013
-
Tastes of Languedoc, Nature and Food
This year we are again going to run some short relaxed courses in Le Presbytere.
Síle's brother Colm Ronayne, nature lover extrordinaire, will be your guide to the natural beauty of this undiscovered part of the Languedoc and Martin will introduce you to its cookery and food.
Colm's
Taste of Languedoc Nature
will be four days of short strolls taking in the natural history, plants, birds and insects of our beautiful region. This walk will reflect the enormous natural diversity of this Mediterranean area where the river valleys separate the mountains from the sea, exploring the Seaside, the Garrigue, and the Waterways of the Vallee d'Orb and the Canal de Midi and will also look at some of the autumn foods to be garnered from the hedgerows and woods of the area.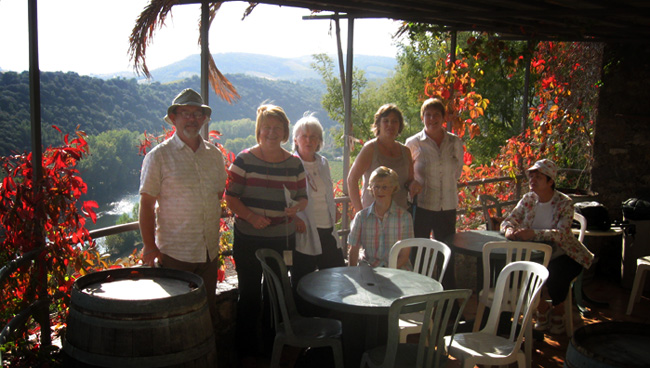 Martin's
Taste of Languedoc Food
will consist of four days of morning demonstrations of cooking the wonderful produce; shellfish, vegetables, fruit, lamb, duck and wines available in this part of France.
The
Taste of Languedoc Nature
with Colm will take place this year in October
• Arrive Wednesday October 2th 2013, depart Monday October 7th 2013
The
Taste of Languedoc Food
with Martin will be in September.
• Arrive Wednesday September 25th 2013 depart Monday September 30th 2013
Both courses will include Bed and Breakfast and a light lunch for the four days of the course and dinner cooked by Martin for the five nights you are with us - Aperitif, Starter, Main Course, Cheese, Dessert and Coffee served with the delicious wines of the Languedoc.
For the
Taste of Languedoc Nature
we can pick you up at Carcassonne Airport on the day of arrival and bring you back there for your flight home. You do not need a car as we will organise your transport to the various walks.
For the
Taste of Languedoc Food
you need to arrange your own transport as you will be free to explore the mountains, the rivers and the beaches of the Mediterranean in the afternoons.
Each of these courses will cost €675 per person sharing with a single supplement of €100.
For any further information contact us at:
Martin and Síle Dwyer,
Le Presbytère, Chambre et Table d'Hôte,
14, Rue René Lenthéric,
34490 Thézan Lès Béziers,
France
Telephone : +33 (0)4 67 48 70 18
Email : martin@lepresbytere.net