Days Out
The village of Thézan Lès Béziers is in the Orb Valley in the Languedoc, an area of great natural beauty.
It is protected from the North by the Monts d'Espinouse in the Parc Naturel Régional du Haut Languedoc which mark the beginings of the Cevennes and the Massif Central.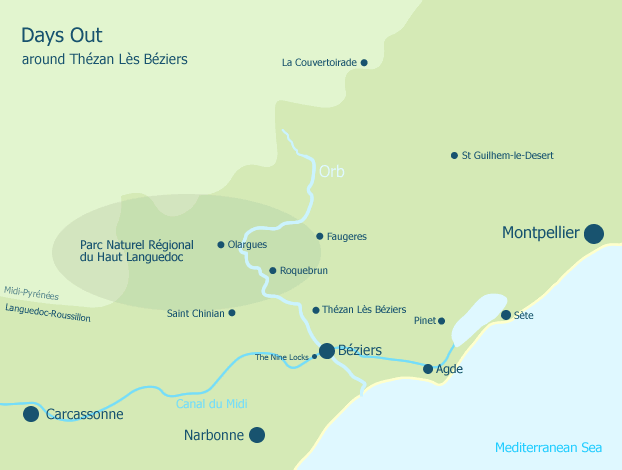 Beaches
The land stretches down to the south to the many beaches of the Mediterranean about 30 minutes away. There you can choose between long isolated beaches with sand dunes and the busier resorts with restaurants and shops.
We are aware of the restrictions of Ryanair and can provide towels for swimming.
---
Mountain Walks & River Swims
As well as the Mediterranean beaches, there are the mountains just a half hour away to the north with marvellous walks and cool rivers to swim in in the hot summers. For those who enjoy river swimming there are fabulous river beaches close to Thézan, including one in Roquebrun which has a weir making it ideal for children.
The summers here seem to last from April until the end of October with temperatures well into the twenties recorded even at Halloween.
---
Beautiful French Villages
If you are, as I am, a lover of French Villages then there are beauties to explore in the area, Roquebrun is spectacularly sited over the Orb with a Mediterranean garden at the top of the village and Olargues, has a beautiful Roman bridge, the most amazing Medieval streets, even a 12th century enclosed public stairway and one of the best brocantes in the area.
A little further off is the Greek town of Agde with its water jousting in the summer, and the marvellous town of Sète and the beautiful villages of St Guilhem-le-Desert and the untouched Templar village of La Couvertoirade.
---
Cities
Those who like cities will enjoy medieval Béziers, just a 15 minute drive away with its cathedral perched over the River and Roman Narbonne with its museums archeological remains.
Montpellier city is just a 45 minute drive away and really easy to get into as there is a Tramway park and ride just off the motorway, next to Ikea, which brings you to the Antigone Centre and the amazing Musee Fabre.
---
World Heritage Sites
Carcassonne is of course world famous for its castellated Cité and is a world heritage site, as is the beautiful Canal de Midi which flows along between Carcassonne and its nine locks in Beziers. The tow path of the canal provides a most pleasant shady summer walk.
---
Wine
The Languedoc is a great place for wine and you could happily spend a day tasting terrific wines from the area. St Chinian and Faugeres are renowned reds and Martin's favourite white tipple, Picpoul de Pinet is just down the road.